Fluid MotorUnion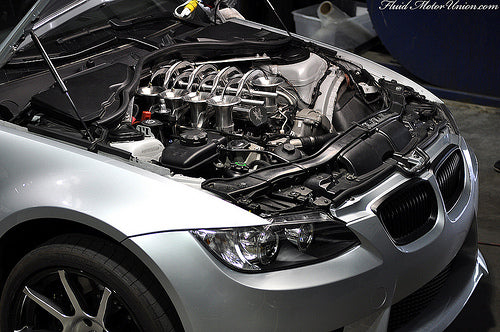 Zen and the Art of a Well-Tuned Mid-West
Great Garages #2
"Be like water making its way through cracks. Do not be assertive, but adjust to the object, and you shall find a way around or through it. If nothing within you stays rigid, outward things will disclose themselves. Empty your mind, be formless. Shapeless, like water. If you put water into a cup, it becomes the cup. You put water into a bottle and it becomes the bottle. You put it in a teapot, it becomes the teapot. Now, water can flow or it can crash. Be water, my friend."
– Bruce Lee
Like the aforementioned martial arts master, Fluid MotorUnion (FMU) in Plainfield, Illinois practices automotive repair and modification with a certain poetry. Over the last decade, master automotive technician OJ Lopez has developed legions of loyal customers who depend on his brand of mechanical justice with vehicles ranging from Mazda Miatas to Mercedes ML55s.

"Most of the techs at FMU are classically trained European car specialists," said OJ. "But we don't have play favorites here and we own/drive pretty much everything. It doesn't' matter whether it's an old Pontiac or a new Porsche. We treat everyone with the same respect." said OJ.
Typically, I'd "round-file" such statements but in FMU's case, it's the real thing. They're great guys, very talented technicians/fabricators and dedicated to keeping their clients ambulatory without charging dealership-level prices. Fittingly, the name Fluid MotorUnion is based on Master Lee's teachings.
Someone said a good doctor, a clever accountant, and a forgiving priest are must-haves for a contented existence.
There needs to be an addendum: a trust-worthy mechanic.
As a long-time 993/911 owner, I'd be lost, broke and probably living in a dumpster without my mechanic, which essentially places the mechanic at the top of the list.
If the South West had an FMU, I'm pretty sure we'd consider it a temple or something.
While a lion's share of FMU business is maintenance/repair, they've developed a solid reputation as a high-performance tuning specialist.
"We like projects with significant engineering challenges behind them" said OJ.
"A Honda with 19-in wheels and an exhaust is great and all, but it's not really our thing."



FMU's Performance and Fabrication Shop enjoys a broad client base and like their Service Department, its customers are totally devoted. A recent FMU project included a pavement-ripping Dodge Ram SRT-10 with a custom-built Garrett GT42R-based turbo system. It spun the big dyno rollers to more than 800 lb-ft of twist and 700 hp. A client in Saudi Arabia was anxiously awaiting its completion as well as an FMU-built BMW X5 and a 750LI.


While being a formally trained Audi/BMW/Mercedes tech never hurts, the theory needs to be forged with real-world application. FMU has tons of it, the type of granular, old school knowledge that's priceless.
"We love cars, we love working with cars, we play with cars after work." said OJ.

"We've been doing it long enough to recognize what works well and what doesn't."
"The VF-Engineering supercharger system goes into the "works-well" category. The VFE kits are well designed, well crafted and easy for my techs to install. The kits are packaged so that the bits you need first are on top…that's pretty smart. When a VFE-supercharged car leaves FMU, you pretty much know the driver won't returning for any technical issues. And if they do, it's usually a few months later and they've "just gotta have" another 150 hp and a new set of tires"
"We recently did a VF-650 supercharger install on a client's E90 M3…it was the high-horsepower system and a straight forward 1-day install except for a missing bolt or something. VFE priority overnighted the piece that afternoon. That's another thing I like about VFE…when you have a question or issue they immediately respond and make it right. "
"Anyway, this M3 left our shop with the VF-650 supercharger and a lot more horsepower. The guy leaves in a cloud of tire smoke and we move onto our Gran Torino project.
"A week or so later he's back and wants even more. We could do that within the VFE system but not without strengthening the engine, transmission and driveline. The gentleman didn't want to wait so he asked us to apply a nitrous-oxide system. I'm betting he'll be back soon. It's never enough for some guys. We understand that all too well."
From my experience, a well-engineered NOS system can deliver a sizable boost to engine output…for a short time. Get greedy and you will quickly learn that the oxide portion of N2o is not a fussy eater. If it can't find fuel it will happily dine on a piston or two.
"Some guys love the "build" part of a modified car. As car guys ourselves we get that. But some of the aftermarket components are marginal at best and we need to re-engineer before it'll actually work. In the end, we end up making it ourselves or suggest an alternative.
"In regards to the VF-Engineering supercharger systems…we want to do more of them. The kits are totally complete, very durable, easy to install and make solid hp gains. For the money, we think VFE is one of the better options out there. Most importantly, the VFE systems make our customers happy. And that's a good thing."
Side Note: Weld quality is a good barometer for measuring a shop's expertise. Look at these freakin welds, man! Perfect little rows of dimes. Someday, I'll be able to weld like that. Currently, my welding skill (singular) is burning holes in metal.